Google Maps introduces platform delivery solutions and pickup guide
The COVID-19 pandemic has changed buying patterns. From ordering important goods online to deciding to have groceries delivered to their homes, consumers today opt for safety, convenience and value and are more open to brand changes. Buying online, pick up in store (BOPIS), an already emerging trend, has gained momentum over the past year. According to McKinsey & Company's COVID-19 Consumer Pulse Surveys, more than 60% of customers have changed their shopping habits.
On the flip side, retailers who have had to adapt to changing consumer preferences face the challenges of bulk orders, last mile deliveries, inventory issues and customer loyalty. The introduction of technology, particularly the use of location technology, can help address these challenges and ensure seamless in-store pickup and efficient delivery.
Google Maps Platform for seamless business
For the benefit of consumers and retailers, Google has added new features to its delivery and collection guide for the Google Maps platform that can improve the customer journey and operational efficiency of retailers. The platform's application programming interface (API), Store Locator Plus and Checkout, can help customers find a store nearby and make check-out easier – a quick, hassle-free experience. You will be given detailed instructions on how to collect your purchase and will give store staff insight into the arrival of customers to reduce waiting times. The Google Maps platform improves the delivery experience, enables easy check-out, supports drivers and simplifies the shipping process. Also, a retailer can minimize delivery errors and track the order in real time. Companies around the world use these features to deliver world-class retail experiences.
Also read: How to develop a location-based augmented reality app
Find the best deal
Store Locator Plus allows retailers to view a responsive list of locations sorted by travel distance or time on a custom map. At the same time, a customer can easily view important information such as services, opening times, ratings and relevant Covid-related operating details. Swisscom, a global telecommunications company in Switzerland, used this API on its website, which increased online appointments by 25 times.
Customers can book appointments directly with the Swisscom Store Locator
Courtesy of Google Maps
Similarly, Argos, a leading UK retailer, has redesigned its brick and mortar store and developed advanced store locators on its website. The API solution also allows customers to check the inventory on the product pages for a convenient shopping experience nearby. The solution resulted in the company reducing its website bounce rate by 12% overall and seeing 4 million visitors per year.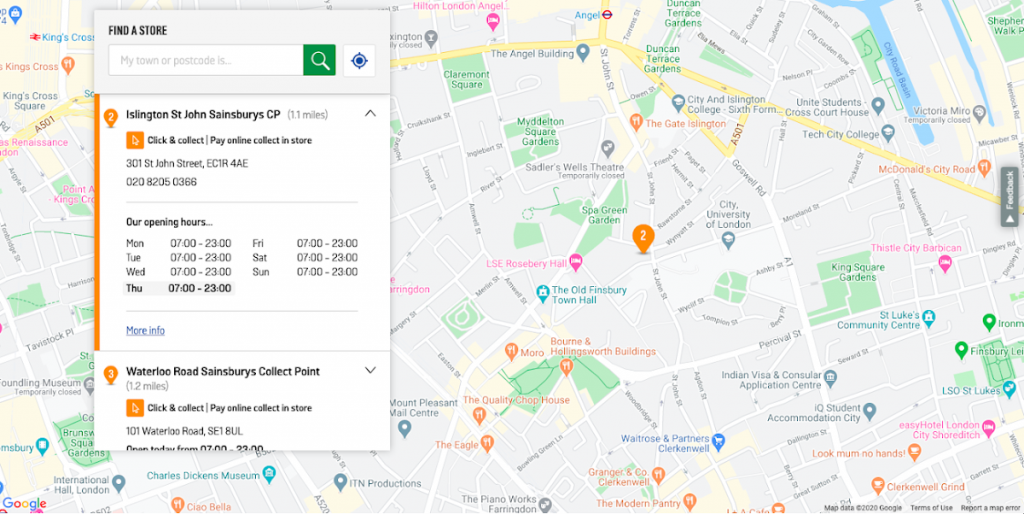 The Argos store finder shows a number of stores nearby with important store information from the location details. Courtesy of Google Maps
Hassle-free check-out through geocoding
Failed deliveries and incorrect addresses are costly to retailers, but they are also a major cause of customer dissatisfaction. Google Map Platform's checkout solution helps retailers and customers check addresses for accuracy when filling out billing forms.
Checkout has an API, Place Autocomplete, which provides an address prediction service for pre-typing, reducing keystrokes and displaying suggestions in real time. Once an address is obtained from Place Autocomplete, a retailer can also use the geocoding API to provide quick visual feedback and determine the exact latitude and longitude of the customer's delivery or pick-up address. Tokopedia, an Indonesian marketplace platform, improved the address completion rate by 10%.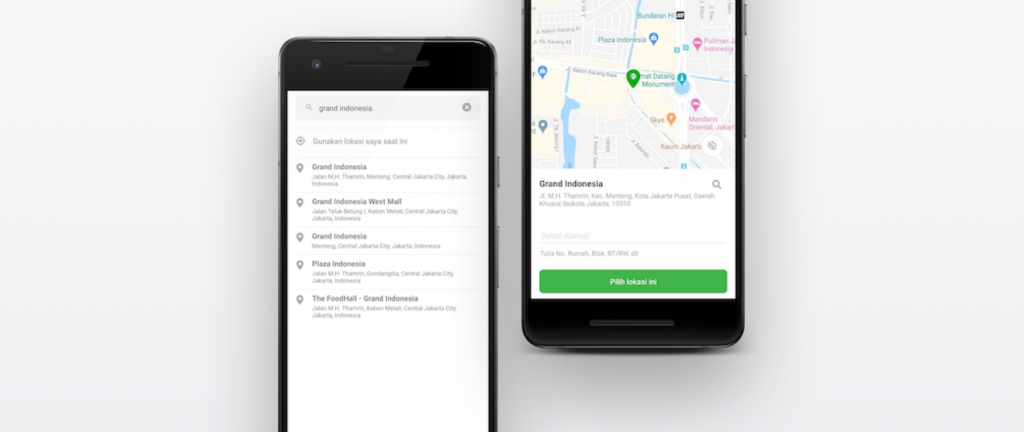 The Tokopedia app checks addresses for correctness and simplifies checking out with Autocomplete.
Courtesy of Google Maps
Also read: A Story of Smart Cities: How Spatial Data Solutions Contribute to Urban Safety